Last Updated on October 24, 2023 by Humera hallari
Hello everyone in this blog post, I shall show you how to track a stolen laptop with serial number. Please read the article till the end to find the solution that fits our case well.
Understanding Serial Numbers
Laptop serial numbers are unique, just like fingerprints. It is used by manufacturers to manage all their products. They are also used to associate all the crucial information of laptops in a database. But there was always a catch with these serial numbers. They are used to track your stolen laptops. This means that one must know how to read serial code and no worries I'll teach you that too.
The serial number can be found in the laptop Product manual or user guide. They are also found on the backside of the laptop and even in the battery housing. It consists of 10-15 unique characters which are made up of numbers and letters. There is no uniformity in serial codes. Every manufacturer uses their own serial number nomenclature.
Even if your laptop isn't stolen it is always a good practice to write the serial number down. It is very key in tracking lost devices. Now let's move on to how you track your stolen laptop with serial numbers.
Can you track a stolen laptop with serial number?
Serial numbers serve as unique identifiers for computers and are vital for verifying warranties and ownership. They connect all the various components of your device. Although a serial number can't precisely locate your laptop, it does play a crucial role in alerting your service provider in case of theft. They can swiftly identify your laptop by its serial number.
Therefore, it's of utmost importance to keep a record of your laptop's serial number. If you're using Windows (7, 8, or 10), you can locate it by using the "Detect my product" feature, specific software or commands, or by checking the label on your laptop. It's also commonly included in your purchase documentation.
Can we find a Mac laptop by using the Mac address?
MAC Address is the unique identification assigned to every MAC PC or Laptop. It can be located from System Preferences > Network under the Ethernet tab.
To Answer your query if you can find a MAC Laptop using the MAC Address? Then My answer is Yes and No because it does not carry any information about the device owner. It can be useless when the thief also uses the same LAN and then tracking becomes impossible.
Can We Find a laptop with an IMEI Number?
IMEI stands for International Mobile Equipment Identity. It is a unique 15-digit number assigned to every mobile device or laptop out there. This IMEI number is found on the device's label. It is Used to Block the device on certain carriers usage.
The IMEI Number can never be changed. For a person to replace the IMEI Number, reset the device hardware to factory settings or replace hardware components. If your device supports a 4G or even a 3G connection then it's possible to track the thief down. If by any chance the thief keeps the mobile data alive then the device can be tracked.
What things should one do if laptop is stolen or lost
Report to Police: File a police report with laptop details.
Data Protection: Assume a thief can access data.
Change Passwords: Secure online accounts with new passwords.
Contact Your Bank: Notify your bank and follow their advice.
Insurance: If insured, deactivate the device with your insurance provider.
Antivirus Scan: Check other devices for viruses or spyware.
---
How to Track a Stolen Laptop with Serial Number
Below I have listed all the solutions for you to overcome such problems. Feel free to write to us if you have any queries or doubts regarding this article. Let's get reading!
use "Find My Device" to locate your stolen laptop
Tracking a Stolen Laptop with 'Find My Device' follow the steps given below.
Begin by signing in to your Microsoft account.
Proceed to 'Windows Settings.'
Select 'Update & Security.'
Locate and click on 'Find my device.'
Toggle the switch to activate 'Find my device.' Once this is done, you'll be able to locate your laptop simply by clicking the 'Find' button.
With 'Find My Device' activated, you'll have access to the most recent sign-in or log-in location of your laptop. It's crucial to ensure this feature is enabled because if it's not activated before your laptop goes missing, you won't be able to track it down.
How to Trace Your Laptop's IP Address Using Gmail
Track Your Laptop's IP Address with Gmail
If you've signed in to your Gmail account while your laptop is connected to a network, you can trace its location using the IP address. To locate your device using Gmail, follow these steps:
Log in to the web-based version of Google's email service.
Click on 'Details' located below 'Last Account Activity' in the lower right corner.
Make a note of the IP address associated with the device you suspect has been stolen.
Report the situation to the appropriate authorities.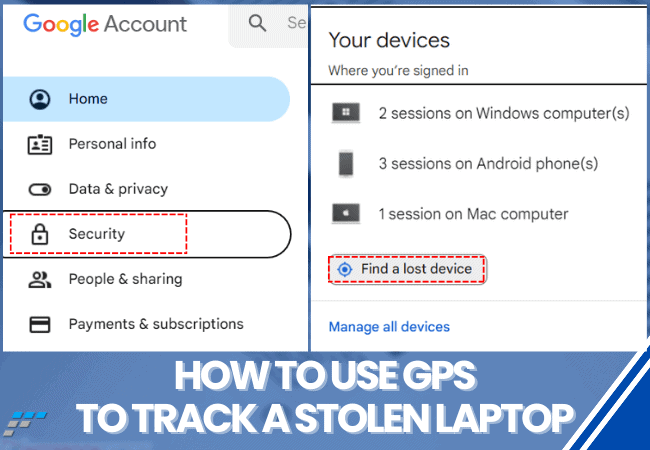 How to Trace Your Laptop's IP Address Using Dropbox
Tracking Your Laptop's IP Address via Dropbox
Similar to Gmail, if you're logged into your Dropbox account, you can trace your laptop using its IP address. To locate your stolen laptop through Dropbox, follow these steps:
Log in to your Dropbox account using a web browser.
Click on 'Account,' situated in the upper right corner of the screen next to the 'Search' icon.
Within the 'Settings' section, choose 'Security.'
In the 'Most Recent Activities' section, simply hover your mouse over the information symbol to identify your device.
Note down the IP address and report it to the appropriate law enforcement authorities.
OR
Alternative Method to Track a Stolen Laptop with Dropbox
Sign in to Dropbox and access your files.

Open Dropbox and log in to your account.

Create a dedicated 'Track a Laptop' folder for tracking.

Use the search bar to create a new tracking folder.

Enhance tracking capabilities by inserting an SD card into your laptop's SD card slot.

Ensure the SD card has a minimum of 4GB storage space.

Optionally, log into Dropbox using your computer's IP address for added security.

Choose 'Connect from IP' and enter your computer's IP address if desired.
How to Trace Your Laptop's Location Using Facebook
If the previously mentioned methods fail to yield results, you can attempt to track your stolen laptop using Facebook. This method involves examining the IP address and the last recorded connectivity session.
Utilizing Facebook for Laptop Tracking Follow these steps to get started:
Log in to your Facebook account navigate to 'Settings,' then select 'Security.'
Choose 'Security & Login.'
Hover your cursor over the name of your city in the 'Where You're Logged In' section and make note of the location and IP address.
Facebook's 'Recent Activity' feature will display your most recent activities, including dates, times, locations, and IP addresses.
Armed with this information, you may increase your chances of recovering your stolen laptop
How Do you track a Stolen laptop with an IMEI number?
It's crucial to understand how to find your laptop if it is stolen. The simplest method is to keep the IMEI number in your phone so that you may report the computer as stolen as soon as you see it.
This is how it's done
Go to Settings > About Phone > Find IMEI (or a similar option) on your phone after turning it on. You can enter the IMEI number on the relevant screen after clicking here.
After returning to the home screen by pressing back on your phone, select "Report This Device as Lost/Stolen." This will automatically send an email containing information on the claimed theft or loss of your device.
How Can I Use GPS To Track A Stolen Laptop?
You can use it to trace the location of any stolen electronic devices, including laptops, iPads, and other gadgets. This process of "locating" the item is helpful for determining whether your laptop was stolen. Simply follow these procedures; you don't need any specialized tools or software to do this.
Download the GPS application to your phone.
Start tracking your device by turning on the GPS on your phone.
Tell the police right away if you locate it!
How to track a stolen laptop with Gmail
To use Gmail for tracking a stolen laptop:
Go to Gmail's homepage and click 'Settings,' then 'Accounts and Import.'
Enter your name, email, and password.
Select 'import' to import data from Google Drive into Gmail.
After the import, return to the Gmail homepage, click your name, and choose 'Settings.'
Click 'Import' to view the imported emails from Google Drive, sorted by date.
How to track a stolen laptop with Outlook
Launch Outlook and access 'Tools' from the left menu, then proceed to 'Folder Options.'
Navigate to the 'View tab' on the left side of the screen.
Enable the 'Show hidden files and folders' option by clicking on it, revealing all concealed files and folders on your computer.
Apply these changes in your system by following this sequence: Tools > Folder Options > View Tab > Hidden Files and Folders > Show hidden files, folders, or drives tab > Change Permissions option > Apply button > OK button.
How to Locate a Stolen Mac Laptop
If your MacBook has been stolen, there are two methods available for tracking it, similar to those used by Windows users. You can employ the 'Find My Mac Device' feature or iCloud to recover your lost device. Here are the steps for utilizing these features:
Tracking Your Laptop Using 'Find My Mac' and iCloud Tracking Your Laptop Using iCloud You can employ the 'Find My Mac Device' feature to trace your stolen MacBook. Follow these steps to do so:
Access your dashboard and select 'System Preferences.'
Enter your Apple account credentials and log in to iCloud.
To activate 'Find My Mac,' select the option and click 'Allow to Confirm.'
To locate your device, log in to the iCloud website using your Apple ID.
Click on 'Find my phone' and choose 'Missing MacBook.'
The location of your MacBook should now be displayed to you.
Creating an iCloud account provides you with the precision to track your Apple devices. iCloud incorporates anti-theft measures that allow you to trace your stolen MacBook, lock it, or erase its content when detected. You can even trigger an alarm sound using iCloud.
If no device is displayed after these steps, it means your device isn't connected to an active network. In such a situation, Apple's iCloud service will notify you of its location as soon as it reconnects to the internet.
Tracking Your Laptop Using MAC Address Tracking Your Laptop Using a MAC Address Your MAC address is comprised of six sets of two characters, separated by hyphens. You can obtain your MAC address by going to 'Utilities' and launching the terminal software or by using the shortcut 'Command + Shift + U. This will display the MAC addresses for all network interfaces.
In the event of a lost MacBook, contacting your network administrator can greatly enhance your chances of recovery. While users typically don't register their devices on a central network, reaching out to the administrator is crucial for tagging your system for monitoring.
Each device's MAC address is generally unique. An administrator can employ MAC address filtering to restrict outsiders from accessing a network or limit their network access. When your device is no longer under your control, notifying the administrator allows them to track the origin of the connection as the IP address changes. Thus, maintaining the confidentiality of your MAC address is of utmost importance.
Things to do before your laptop gets stolen
Register with the Manufacturer:
Registering your laptop with the manufacturer offers multiple benefits, including the ability to receive updates and support. The serial numbers are used by manufacturers for tracking and communication purposes as previously mentioned in the article.
Install Robust Tracking Software:
Enhance your device's security with reputable tracking software like Prey or Adona. These software are very capable on their own by offering remote access to locate and manage our laptops from any corner of the world.
Activate Built-In Tracking:
For Windows and Mac users, the built-in 'Find my device' function is a valuable asset. Initially, the feature is disabled by default so turn it on and remember it keeps a detailed record of the device. Find My Device also offers remote access to the laptop and tracks its location. On Mac, it's called 'Find My Mac,' while Windows laptops have a similar 'Find My Device' function.
To activate 'Find my device' on Windows 10:
Access 'Settings' and navigate to 'Update & Security.'
Locate 'Find my device' in the sidebar and enable it.
Verify the status (on/off) and proceed.
Access the 'Privacy' options in the main menu.
Activate 'GPS location' and 'Allow devices to access your location.'
Your 'Find my device' feature is now active. Check your Microsoft account to verify its listing under 'Your devices' for assurance.
Commonly Asked Questions
Ways to Ensure Laptop Safety
Use a Laptop Lock:
Invest in a laptop lock, compatible with your laptop's security slot.
If your laptop lacks a security slot, consider cable locks or add-on security slots.
Secure at Home or Work:
Keep your laptop in a secure location when not in use.
Travel Safely:
When traveling, always carry your laptop with you and never leave it unattended.
If unattended, remove the battery and memory card, storing them securely.
Tracking a Stolen Laptop
Can a Brand New Laptop Be Traced?
New laptops can be traced if they have tracking hardware, but it requires effort.
Is It Possible to Track a Stolen Laptop?
Yes, tracking is possible through GPS, MAC address, or tracking software.
Can Police Track Stolen Laptops?
Police can track stolen laptops, but recovery rates are low.
What Do Thieves Do with Stolen Laptops?
Thieves typically sell stolen laptops, sometimes online or to pawn shops.
What Happens If You Buy a Stolen Laptop?
Buying a stolen laptop can lead to legal consequences or loss of the laptop.
How to Track a Stolen Laptop with Serial Number (different manufacturers)
How to Track a Stolen HP Laptop with Serial Number?
Report the serial number to the police and use tracking software or services.
How to Track a Stolen Acer Laptop with Serial Number?
Report the serial number to the police and use tracking software or services.
How to Track an Asus Predator Stolen Laptop with Serial Number?
Delete the device from your Asus account and use tracking software like Prey Project.
How to Track a Stolen Lenovo Laptop with Serial Number?
Use tracking software or services, such as the 'Suspicious Activity Report' program.
Can a Laptop Be Tracked After a Factory Reset?
Yes, a laptop can be tracked even after a factory reset due to its digital footprint.
Conclusion
I hope now you understand how to track your stolen laptop with serial number. Please follow all the precautions I have shared to avoid such things from happening again. Please Check out more articles on our website. Thanks for reading
Check Out Other Articles