Last Updated on October 24, 2023 by Humera hallari
Hello everyone, In this blog post I shall teach how to change CPU fan speed without BIOS and also highlight the importance of CPU fan speed
The CPU can generate huge amounts of heat due to its rapid processing abilities. When there is an absence of a proper cooling fan to reduce heat. It may lead to CPU damage and Overheating risks and even complete failure of the system forever. So it is important to know about CPU Fan Speed and How to adjust it smartly
What is CPU fan speed?
CPU Fan Speed is a term used to describe how the CPU heatsink draws cool air into the computer case and blows it over the processors. This fan is a low-speed device that blows slowly but generates a lot of air. If this fan is not working correctly, the system's processor can overheat, causing the system to crash.
Why does a CPU fan need to be controlled?
A CPU Fan is attached on top of the CPU to keep it cool. It has a smaller size but can spin at high RPMs. This fan achieves the desired cooling by cooling the thermal paste between the CPU and the case. This fan ensures that air flows properly within the CPU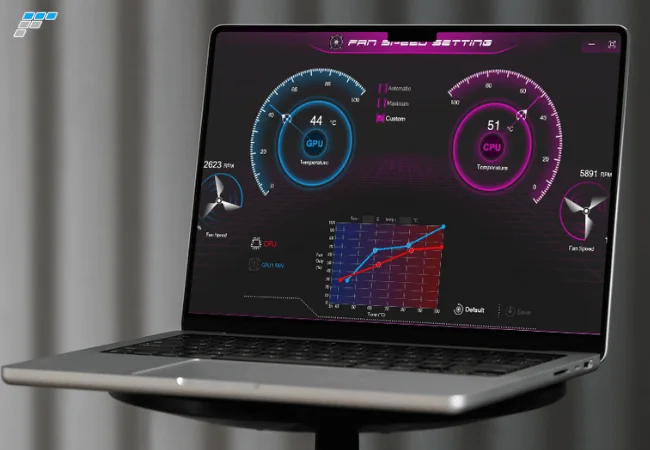 Most users are unaware that the CPU fan speed needs to be controlled depending on the task running. This means the user has no control over the fan. In some cases, the Fan runs at maximum speed to cool the CPU. It leads to quick power draining and loud fan noise. Improper control of CPU fan speed can make the system slower.
How To Change CPU Fan Speed Without Bios? Step-by-Step
In order to Know How to change CPU fan speed without Bios. Follow this step-by-step guide.
Method 1: Change CPU Fan Speed Manually In Windows 10/11
Here is my most recommended method in order to cool the processors and prevent overheating. The CPU fan speed can be controlled manually and automatically. It all depends on the BIOS setting of your PC. Here's how you can check your BIOS settings and even overwrite them if you need.
Open Task Manager: First Right-click on the taskbar and select Task Manager from the options.
Go to Processes Tab: Navigate to the Processes tab to identify the CPU-intensive methods.
End The Process: Terminate the identified process to reduce CPU load and allow your cooling fan to slow down. You can also adjust process priorities for improved system performance. This method is most effective when you know which process is causing high CPU usage and overheating.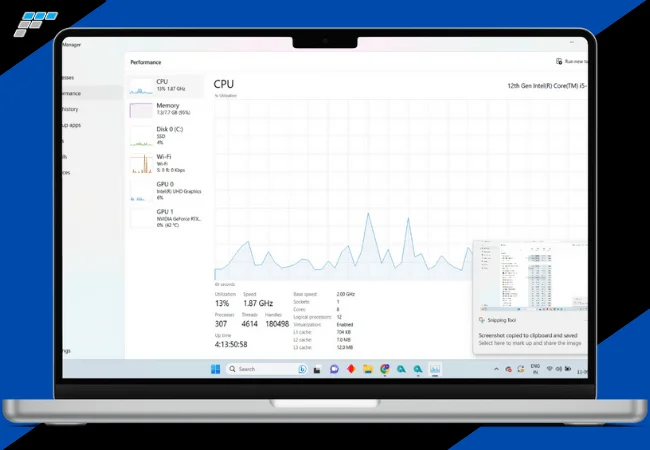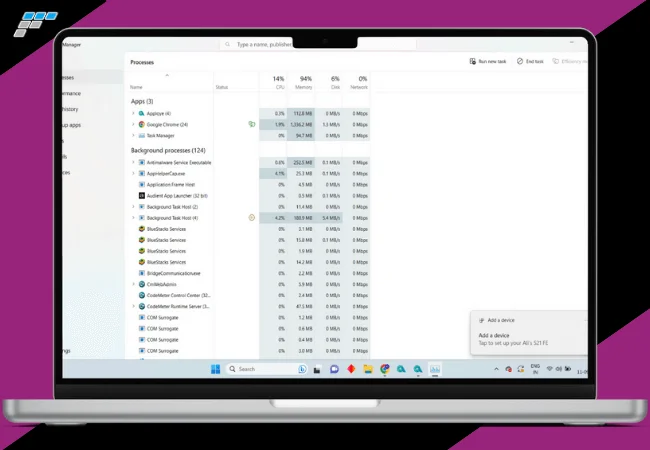 Control CPU Fan With Creating Shortcut
Create Shortcut: Right-click the program's exe file, choose "Send To," and select "Desktop (create shortcut)."
Shortcut Properties: Right-click the newly created shortcut and go to "Properties."
Shortcut Tab: Click on the "Shortcut" tab.
Add Arguments: In the "Target" box, include extra space and type desired arguments like "/SILENT" for Silent mode or "/VERYSILENT" for Very silent mode.
Apply Changes: Click "Apply" and then "OK."
Control CPU Fan speed with the power setting
Using the manual fan control feature, you can set a speed for each fan and adjust it according to your preferences. Follow these four steps to learn how to control your CPU fan speed manually:
Open the Start menu, type "Control Panel," and hit enter.
Click on Hardware and Sound and then Power Options.
Click on "Change plan settings" next to your active power plan.
Click on "Change advanced power settings."
Control CPU Fan Speed on Mac OS
Access Utilities: Open the "Utilities" folder.
Launch Activity Monitor: Start the "Activity Monitor" application.
Select CPU Tab: Click the "CPU" tab.
View Running Processes: Click the "F" button to display all running processes.
Analyze Process: Right-click on a process and select its name or path.
Open in New Window: Click "Sample Process" to open it in a separate window.
Adjust CPU Speed: Choose the process you wish to run at a different CPU speed.
Method 2: Automatically Setup CPU Fan Speed
If method 1 doesn't work try this method where we Automatically set up CPU Fan Speed.
Access Control Panel: Launch Control Panel, choose Large icons from "View by" (top-right corner), and click "Power Options."
Configure Power Plan: Click "Change plan settings" in the left column. (Advanced settings are available via "Change advanced power settings.")
Set Cooling Policy: Under "Processor power management," expand "System cooling policy." Open both options and select "Active" for automatic CPU fan speed.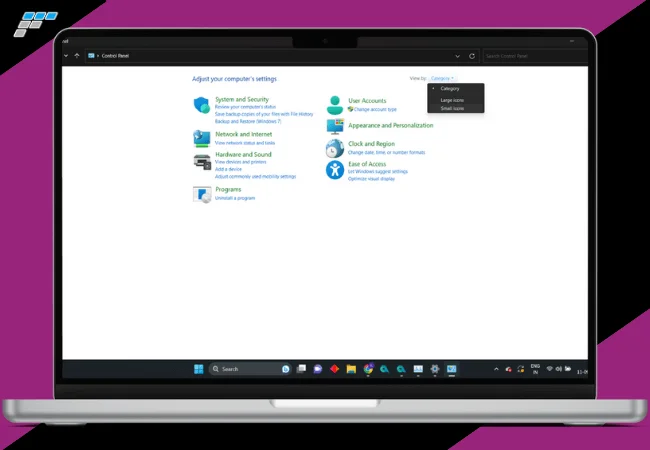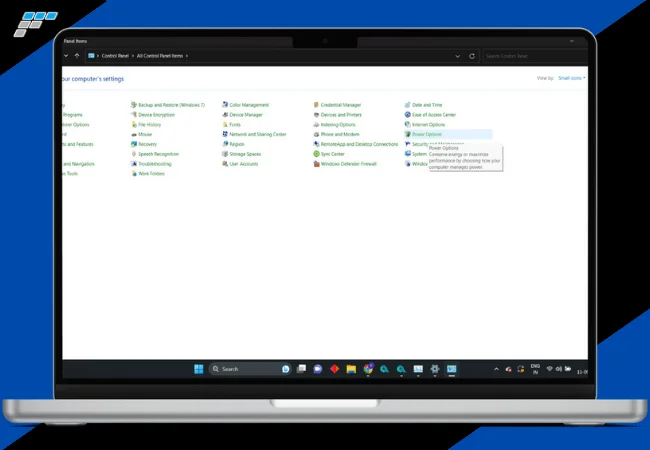 Note: For battery power, repeat under "On battery" and "Plugged." You've now set up automatic CPU fan speed.
Method 3: Control CPU Fan Speed with Software
CPU Fan is the most essential part of the computer cooling system. When running a heavy application as I previously said in the blog the fan spins at a higher rate. This helps to keep the temperature under control. Such high-speed operations of the fan can cause large fan noises.
Now In this part of the blog, I shall teach you to control your CPU fan speed with the help of software. Below I have mentioned all the different software you can use to change your CPU Fan Speed.
1. Speed fan software
I will guide you on how to control CPU Fan Speed with SpeedFan software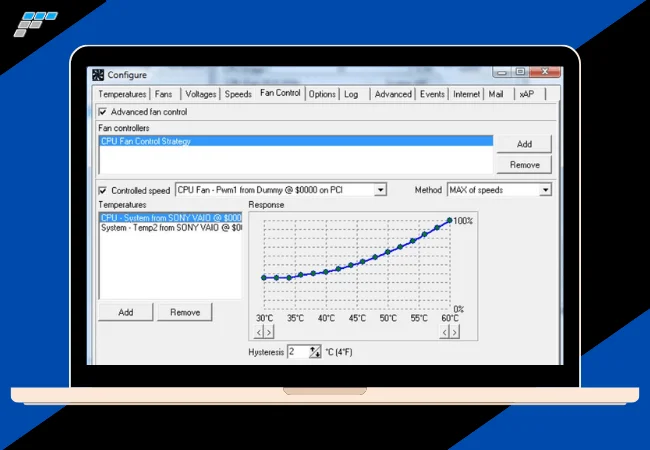 Install SpeedFan: Download and install the SpeedFan software on your PC.
Launch Software: After installation, open the software, which has multiple tabs.
Identify Fans: In the "Configure" tab, you'll find sections for CPU Fan, SYS Fan 1, SYS Fan 2, and AUX, representing connected fans.
Select Control: Choose "Auto" from the drop-down list next to the fan section you want to control (e.g., CPU Fan or SYS Fan 1).
Configure Speeds: Go to the "Speeds" tab and select "P.W.M. Mode Control," which lists all connected fans.
Advanced Settings: Return to the "Configure" tab and click "Advanced…" in the bottom right corner, opening a window with various options.
Fan Selection: Pick the fan you want to control using SpeedFan or select another fan by clicking "Select."
2. Easy Tune 5
Next here are the steps I used to control CPU Fan Speed with EasyTune 5 software
Note: This works with "Gigabyte" motherboards only.
Download and install EasyTune 5
Right-click on your Desktop and select "EasyTune 5" or "EasyTune 5 (Advanced Mode)."
In EasyTune 5, go to "Tool" > "System Information."
Adjust the "CPU FAN Speed Control" slider at the bottom for your preferred idle fan speed (e.g., 20%).
3. Argus Monitor
Now I will teach you How to Control CPU Fan Speed with Argus Monitor software. Here are the steps.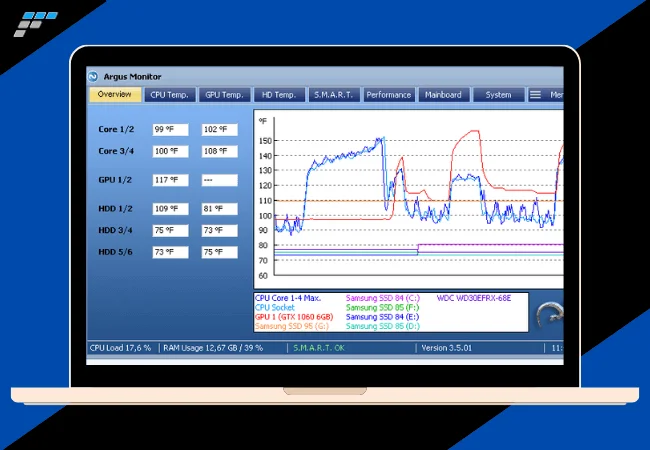 Install Argus Monitor on your computer.
Open Argus Monitor and access the Settings.
In the Settings window, navigate to the Fan Control tab.
Enable "Enable fan control from software."
Once enabled, a fan speed slider will appear. Use this slider to adjust the CPU fan speed.
Note: Argus Monitor is compatible with only specific CPU fan models, such as Noctua NH-U12DX i4 and Noctua NH-D14 SE2011.
4. HWMonitor
I would also suggest Control CPU Fan Speed with HWMonitor software it's also a good alternative.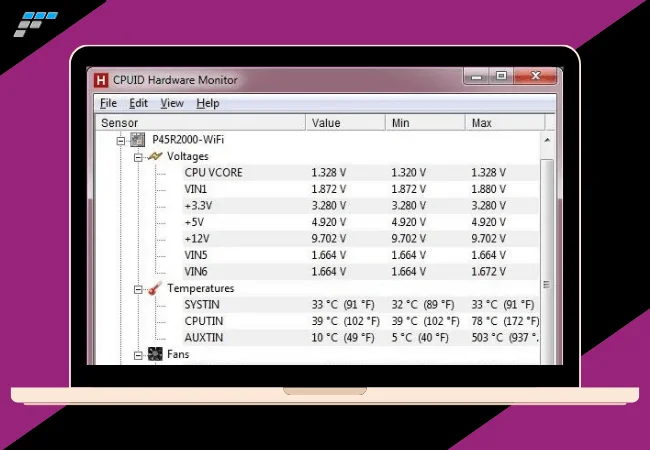 Download HWMonitor: Get the free HWMonitor software from CPUID for your specific hardware system and install it.
Launch HWMonitor: Open the installed HWMonitor software either through the desktop shortcut or by searching for it in your program files.
Monitor Temperatures: The program displays CPU temperature at the bottom of the window, along with other readings like System, AUX, Video Card, and Hard Drive temperatures.
Configure Limits: Access the "Options" menu and select "Configure." You can set temperature limits for each sensor (CPU, System, AUX, etc.). To adjust a limit, hold "Ctrl" while dragging it up or down as needed.
Zotac FIRESTORM
The last software that i would recommend to Control CPU Fan Speed with Zotac FIRESTORM software.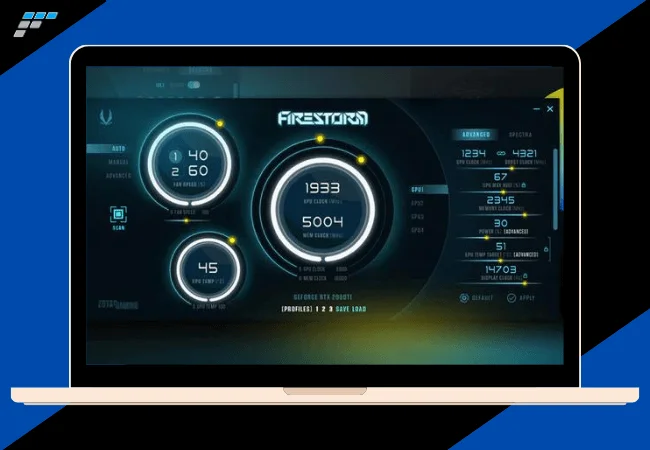 Install Zotac FIRESTORM: Start by Downloading the software from the official website or this link. Install it on your Windows PC.
Launch the Software: After installation, open FIRESTORM from either the desktop shortcut or the Windows search bar.
Access System Information: In the main window, view system data such as CPU and GPU temperature and clock speed.
Adjust Settings: Modify Core Clock, Memory Clock, Power Limit, and fan speed as needed.
What happens if you don't change CPU fan speed?
The computer exhausts hot air, which raises the temperature of the CPU and other parts. This hot air doesn't let the CPU and other parts cool down. As a result, the CPU and other parts burn. So we can say that if you don't change the CPU fan, your computer dies. It also causes the computer to slow down.
---
FAQ – How To Change CPU Fan Speed Without Bios?
How to change CPU Fan speed without BIOS Ai Suite
Follow the steps below to install and use Ai Suite 3:
Download and install the latest version of Asus A.I. Suite 3 from the official support site.
Once installed, run the program and look for E.P.U., Fan Xpert 4, or any other option in your motherboard's suite.
Click on it to open it and enable it if necessary.
Click on the CPU Fan icon next to it and then choose 'CPU Fan Speed Control' (or something similar). This is where you can adjust your CPU fan speed manually.
How to Change CPU Fan Curve with Speed without Bios
Bios control is fixed and can't vary fan speed based on CPU temperature. To achieve this, connect the fan directly to the power supply and adjust the speed using a controller.
How to change fan speed in BIOS Windows 10
Fan speed control is no longer available in BIOS for many computers. Some desktops have in-BIOS fan control, but if your PC lacks this feature, you can use SpeedFan software to manage fan speed.
How to control CPU Fan Speed with intel fan control
Manually adjusting CPU fan speed using Intel fan control is possible but not recommended due to potential CPU damage. If you still want to proceed manually, follow these steps
Check CPU temperature using an app like Core Temp.
Download and install Intel Extreme Tuning Utility.
Open the utility, click on Stress Test (left pane), and navigate to Advanced Tuning (right pane).
Find your CPU in the list of Intel components and access the Manual Settings tab.
Adjust the fan speed using the slider, but exercise caution as even minor speed changes can harm the CPU over time.
How to Increase CPU Fan Speed
Inspect Hardware Settings: Start by reviewing your hardware or device settings. Ensure they align with the tasks your computer performs effectively.
Monitor Temperature: Keep an eye on your computer's temperature to prevent overheating. Utilize a CPU temperature monitor to gauge the CPU's heat levels.
How to Turn Up Fan Speed
The fan speed can be adjusted via the custom mode. In Custom Mode, press "-" to decrease the fan speed and "+" to increase the fan speed.
How to control CPU fan speed with a USB fan controller
Here is how you can control CPU Fan Speed with USB Fan Controller Software:
Download the Software:

Get the utility from a trusted source, preferably a well-known website like CNET or Softonic.

Install the Software:

Run the downloaded executable file and follow the on-screen installation instructions.

Access Fan Controller Settings:

Locate the fan control icon in your taskbar's notification area to access the settings.

Choose Fan Control Mode:

In the Fan Control tab, select from Manual, Custom, or Automatic modes.

Manual: Adjust fan speed individually (20% to 100%) using sliders.
Custom: Customize fan speed curves (0% to 100%) based on CPU temperature (40°C to 100°C).
Automatic: Fans operate according to automatic settings, unaffected by manual adjustments.

Save Changes:

Click "Apply" to save your settings before exiting the program.
How to control CPU Fan Speed with Ryzen fan controller software
Controlling Ryzen CPU Fan Speed:
Use Ryzen Fan Controller software for easy and effective CPU fan speed control.
Monitor CPU fan speed, temperature, CPU usage, and frequency.
Also useful for tracking network traffic.
Key Features:
User-friendly interface for ease of use.
Customize fan activation based on temperature thresholds.
Includes a built-in testing feature for trying it on various systems before purchasing.
How to control CPU Fan Speed with Windows 7 CPU Fan Controller
Controlling CPU Fan Speed with Windows 7 CPU Fan Controller:
Maintain CPU Cooling: Ensure your CPU stays cool for optimal performance by adjusting the internal fan speed.
Using SpeedFan: To manually reduce fan noise and control fan speeds, download and install SpeedFan, a free program.
Configuration Steps:
Step 1: Download SpeedFan from [link] and install it. You can skip the Ad-Aware installation prompt.
Step 2: Open SpeedFan and access the "Configure" menu, then select the "Fans" tab. Rename and set fan speeds according to your preferences for different temperature ranges.
How to manually turn on laptop fan for Windows 10
Ensure all unnecessary applications are closed.
Open the Control Panel.
Click on "Hardware and Sound."
Select the "Device Manager" tab.
Locate the laptop fan in the device list, right-click it, and choose "Properties."
Go to the "Driver" tab.
Select "Uninstall" and confirm in the warning dialog box.
Verify if the fan is now operational.
How to control CPU Fan speed with Aorus Motherboard fan controller
Update BIOS: Visit the motherboard manufacturer's website to download the latest BIOS for your specific motherboard model.
Power Down: Shut down your computer.
Disconnect Power: Unplug the power cable from the back of your computer.
Secure Motherboard: Carefully remove the motherboard from the case and place it on a soft surface like a blanket or towel to prevent scratches.
Access BIOS: Turn on your computer and access the BIOS by repeatedly pressing keys like "Delete," "F10," "F12," or "F2" until the BIOS screen appears.
Use "M-Flash": Within the BIOS menu, select "M-Flash" and follow the on-screen instructions to control your CPU fan speed through the Aorus motherboard fan controller.
---
Conclusion – How To Change CPU Fan Speed Without Bios?
I hope this blog helped clear your doubts and you are now aware of how to change CPU fan speed without BIOS. feel free to write to us in the comments below if you have any doubts or queries. check out more articles on our website. Have a great day!
More resources