Last Updated on August 30, 2023 by Humera hallari
Windows 11 has been released by Microsoft in 2021. The early-stage version of Windows 11 seems similar to Windows 10x with some improvements especially on its appearance and speed. For the installation process of Windows 11 isn't too difficult, you can follow the following guidelines.
How to install Windows 11 easily
1) First you need to download the ISO file from Windows 11, please click here.

2) Create a Bootable USB/DVD for Windows eleven using the tool "Windows Media Creation Tool" with the ISO file Windows 11 earlier, how to do that see here.

3) Point your PC booting at your WINDOWS 11 bootable USB/DVD, then wait for it to enter the installation popup.

4) In the language options, the time format options, and the input keyboard options match what you want. Then click "Next".
5) After that click the "Install Now" button, then continue by clicking on the option "I don't have a product key", and click "Next".
6) Then select the version of Windows 11 that you want to install, here I will install Windows 11 Pro, then click "Next".
7) Check the license option, then click "Next".
8) Next select the option "Custom: Install Windows Only (Advanced)".
9) In the options for partitioning the disk, please click "New", "Apply", "OK" then click the "Next" button and before that activate the cursor on the correct hard disk partition, usually with a large size.
10) Wait for the process of copying the file until it is finished, after that click the "Restart now" button.
11) After Windows 11 restarts, select the country according to your country.
12) Choose the keyboard layout, here I use United States. And for the 2nd keyboard layout, please Skip it.
13) Choose "Set up for personal use", click "Next".
14) Click "Sign-in options", "Offline account".
15) Choose "Limited experience", name your PC whatever, then click "Next". You can leave the password blank and click "Next".
16) For privacy settings it's up to you, then click "Accept".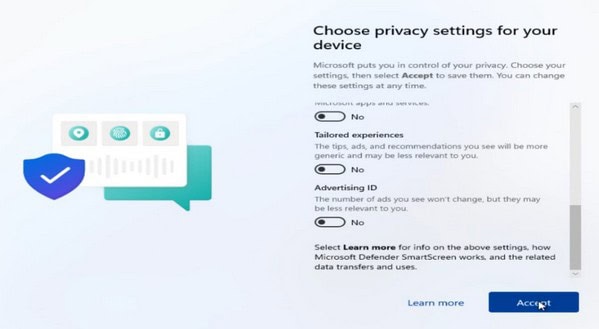 17) Lastly you just have to wait for the installation process to finish, once it is finished then your Windows 11 display will be like this.
You can also see a tutorial on how to install Windows 11 with video, please watch the following video.
That's the complete tutorial how to install the latest Windows 11. You can get Windows 11 through the following link click here.
Read more about How to download FaceApp for PC, Laptop and Windows 7/8/11, How to download and use IPTV Smarters Pro for PC, Windows 11, Laptop.