Read my blogs to get updates about the latest advances in the tech world. From the latest gadgets and tools to tips and tricks for making the most out of your tech. I also review the latest tech releases, offering advice and insights on how to get the most out of your devices.
Last Updated on August 12, 2023 by Humera hallari
IPTV (Internet Protocol television) is a service that provides live and downloaded streaming of television programs and other video content distributed by a service provider via selected IP networks. IPTV can not only be used to stream video content over a private network but also by a subscriber-based model. However subscriber-based models are proffered over a private network due to their less complexity, network latency, and no scaling issues. A wide range of IPTV providers is known today including large-scale companies such as Netflix, Google, Apple and Microsoft, Sony, which offer video streaming services both via smart TV sets and internet-enabled devices. Some other well-known IPTV providers are Roku, Hulu, and YouTube including Amazing TV, FalconTV, SelectTV, etc.
What is IPTV smarter?
IPTV Smarters is an Application that acts as a video streaming player enabling IPTV users to stream content of their choice from multiple IPTV subscriptions. For example Live TV, VOD, Series, and TV Catchup on their Android, iOS devices, Smart TV, MAC OS/Windows PC/Laptop. It is more or less similar to Smart IPTV. IPTV Smarters Pro is free of cost, unlike Smart IPTV which requires a one-time activation fee.
About the app
Name – IPTV Smarters Pro
Pricing – Free and paid versions with premium features.
Ratings – 4.8 out of 5.
IPTV Smarters Pro supported devices –
Android – Android Phones, Android TV, Android TV Boxes, Android FireTV Sticks, and other android sticks or devices.
Smart TVs – LG & Samsung (App available on the store to download).
iOS – iPhone, iPad, TvOS (Apple TV).
Windows/MAC – Windows 8/10 and all versions of macOS including the latest ones.
IPTV Smarters Pro is easily available on the Google play store as well as on the Apple store for android and IOS users.
Features of IPTV Smarters PRO
Unlimited live streaming of movies, series, and radio streaming with UI designs and a Master search option.
It also has a TV program Guide with some external sources.
It supports TV Catch Up streaming, continue watching, Recently Added Movies & Series, M3u File, and URL Loading Supported, and Local Audio / Video file playing.
It supports both single-stream, Multi-Screens, and Multi-Users
It has a parental control feature for parents to easily select the content for their kids.
It also has some excellent features like language switching, auto-play next episode, automatic clear caches, and uploading your playlist or File/ URL.
How to download IPTV Smarters Pro for pc using an emulator?
Step 1 – Download and install a suitable android emulator on your windows or mac.
Step 2 – Once the app is installed. Complete the initial steps by selecting the appropriate language followed by entering your Google account details.
Step 3 – Now you will be directed to the home screen. Open Google play store and Enter IPTV Smarters pro in the search bar.
Step 4 – Open the IPTV Smarters pro app and click on the install button.
Step 5 – After installation IPTV Smarters pro is ready to use on your device.
How to download IPTV Smarters pro for PC using the windows store?
IPTV Smarters PRO is also available on the Windows store. Follow the steps to download IPTV Smarters for PC using the Windows store.
Step 1 – Open Windows Store on your PC/ Laptop.
Step 2 – Search for the IPTV Smarters Pro application.
Step 3 – Select and install the IPTV Smarters application on your device.
Step 4 – Unlimited entertainment is just a click away.
Additional requirements for using IPTV Smarters pro for pc
IPTV Smarters Pro does not host any channels or does not have any playlist of its own. It is an application that allows the streaming of IPTV media. In order to use IPTV Smarters for live streaming, you need to have the login credentials of another IPTV service like Netflix, Hotstar, etc. or you can say that you need to have a subscription plan from an IPTV service provider to use IPTV Smarters pro on FireStick and other devices.
It works only with the IPTV services that support M3U Playlists or has an Xtream Codes API.
Why use IPTV Smarters pro?
One reason for using IPTV Smarters pro is it allows login from multiple IPTV subscriptions. That means you can get access to all IPTV services in one place.
Steps to use IPTV Smarters Pro on your device
Step 1 – Open the IPTV Smarters Pro app.
Step 2 – The Terms of Use window appears on your screen. Scroll down and click Accept.
Step 3 – Click on ADD USER either in the top-right corner or ADD NEW USER in the middle of the screen.
Step 4 – Now you will land on the window with two sign-in options.
Load Your Playlist or File/URL
Login with Xtream Codes API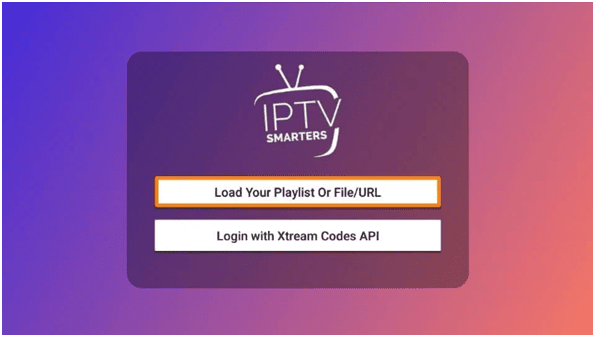 Step 5 – Login with load your playlist or file/ URL
At the time of purchasing the subscription plan, an IPTV service provider sends you an email with login details and M3U Playlist, and EPG links. Follow the steps;
Click on the Load Your Playlist or File/URL option > Allow > Enter your M3U Playlist link> Select the M3U URL check box> Enter any name in the Playlist name section > Type M3U URL in the File/ URL section > Click ADD user.
Step 6 – If you want to log in using the 2nd option which is Xtream Codes API then follow the steps below;
Xtream Codes API is also sent to you in your email by your IPTV provider along with your M3U playlist URL and login details. As soon as you click on the Xtream Codes API option you will come across the window shown below. Simply enter your details and click on the ADD USER button to proceed further.
Step 7 – Now you are all set to comfortably use IPTV Smarters pro on your PC or android device.
FAQs
Is IPTV Smarters pro completely Free?
The answer is NO. All the basic services are free to use. However, there is a paid version too which has some dynamic features.
What are the steps to download IPTV Smarters Pro for Windows 11?
BlueStacks > Google Play > Search IPTV Smarters Pro > Install.
How to download IPTV Smarters on smart TVs?
The app is easily available on the LG and Samsung store to download.
Out of the two login options which one is better?
I personally recommend using the 2nd option which is Xtream codes API. Because it is shorter and easier to type, unlike M3U playlist URLs which are long and difficult to type into the app. Contact your IPTV provider if you haven't received your M3U Playlist URL at the time of subscription.
Read more articles on Download Free CamScanner for PC (Windows 10-11) & Mac, Download SonyLIV App Laptop PC – Windows 11/10/8 & Mac, IPTV ZAMAN NOW, Download and Install PlayBox HD for iOs iPhone and iPad