Snapchat is a mobile app for Android and IOS devices. Snapchat is a fun way to share pictures, videos, or any moment with your family and close friends. This app is very popular with younger generations. Snapchat offers many functions like chat, Snapchat stories, Snapchat Memories, Snapchat Discover, Live Stories, Snapstreaks, Emojis, Lenses, Group Chat, and Snap Map.
Snapchat is popular due to its unique features. Any snap or message you send disappears after they view it unless you change the setting or save the chat. Another popular feature of this app is Snapstreaks.
Snapchat Streak
Snapchat introduced Snapstreaks to keep people connected to its app. A Snapstreak happens when two friends send each other Snapback for more than three days. When you start a streak with someone, you'll see a fire emoji 🔥 next to their name. The number next to the fire emoji shows how long the Snapstreaks have been going on. Snapstreak is very popular with teens nowadays. Friends compete in the group to see who can rack up the longest streak. You don't win or get anything, but it's a fun challenge between friends.
Snap streak is a serious commitment with friends and a lot of fun. If you forgot a single day to send a snap, the snap streak is lost, though Snapchat gives you a warning sign as a⌛️ hourglass emoji. It's not possible to maintain your streak every time. If you lost your snap streak and want to restore your streaks keep reading this article.
How to Maintain a Snapstreak
To maintain a streak, you and your friend must send each other a snap every 24 hours. However, Chats don't count, snap sent with Memories and Snapchat's Spectacles will not count as a snap streak. A group message or video call doesn't count as a snap streak. Unfortunately, you've lost your Snap Streak. Here's how to get your snap streak back.
Note: If you are new to Snapchat and want to know more about snapstreaks refer to our FAQs. Our FAQs cover more answers to your question about snapstreak.
Read about How To Create a Poll On Snapchat
How to Get a Streak Back in Snapchat
Most of the time reason for losing a snapstreak is an error or glitch. Or it ends when you forgot to share a snap in 24 Hours. Here's how you can recover your lost snap streak. You can do it on the mobile app or through the official website.
Recover a lost Snapchat Streaks back using Mobile
1. Open Snapchat on your phone.
2. Tap on your Bitmoji in the top left corner.
3. Tap Settings.
4. Then Scroll down to the tab and tap Support > I Need Help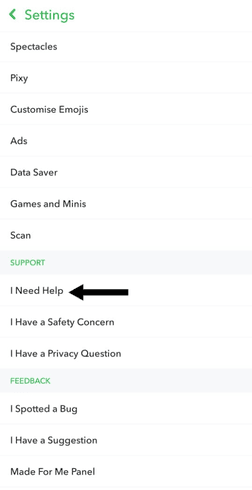 5. Tap Snapstreaks.
6. Click on Let us know.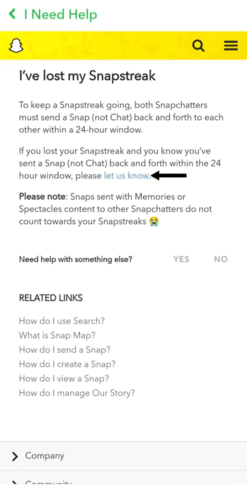 7. Select I've lost my snapstreak.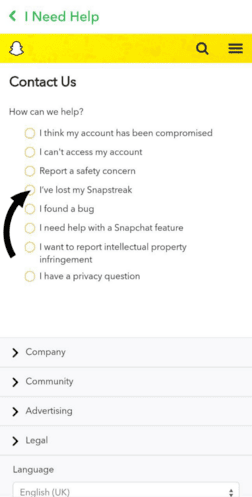 8. Fill out a form on this page.
9. Hit Send to submit your form.
Recover a lost Snapchat Streaks back using the website:
Or resort to a snapstreak from Snapchats support page:
Open Snapchat Support on your phone or PC. Or you can click on this Snapchat Support
Select I lost my snapstreak.
Now, you are required to fill out a form on this page. And send it.
Wait for 24 hours to check if the snapstreak recovers.
Note: If you lost Snapstreak with multiple users, Please submit separate requests to Snapchat.
FAQs
Why my Snapchat streaks are not back?

A. Snapchat mostly resorts to streaks if they are lost due to bugs with the app. if you do not get your Snapchat Streaks back, chances are that Snapchat does not think your request is genuine. However, some people recover their snapstreak by following the step above.

Can you change your Snapchat streak emoji?

A. Yes, Open settings > Customize Emojis > Snapstreak > Select your new emoji.

How do streaks work?

A. A snapstreak begins only when you and your friend send a snap to each other within 24 Hours for more than three days. If you have a streak, it is shown next to your name in the Snapchat app. To start a streak with your friends, follow these steps.
1- Ask your friend to start a streak.
2- Once you find a friend. Start a streak by Sending snaps or videos.
3- Wait for a snapback.
4- Once the fire emoji appear next to the username. Maintain the streak by repeating this process every day.

What is an hourglass emoji means?

A. When you see an hourglass emoji next to your friend's name, it means your streak with a friend is about to expire.

Is there a Snapchat helpline number that I can call?

A. No, Snapchat doesn't have a helpline number. You will need to contact them via their webpage Snapchat Support.

How long does it take to restore a Snapstreak?

A. Once you fill out the form or raise a request to resort to a snapstreak, The team will verify your request and get back to you within the next couple of days to inform you whether you will get back your streak or not.
Read more articles on How to download private Instagram photos, videos, and reels using instafinsta, Nakrutka to get free Instagram auto followers and likes, SnapChat Apk For Android, GIPHY – Animated GIFs Search Engine Apk For Android