Mechanical Engineer with strong knowledge of design tools, technologies, automobiles, Wood Working, CAD/CAM etc. Sharing insightful knowledge to help people.
Last Updated on September 4, 2023 by Noaman Adenwala
We have a variety of laptops to choose from as the technology keeps on advancing. Laptops starts from 8 inches and goes as large as 17 inches. With so much of options it might get really confusing to choose one. Each size is preferred by different people. You have to figure out what your requirement is and buy the perfect one to save money. The in depth information attached in this article will help you to better understand about the 14 inch laptop dimensions.
Why is the 14″ Laptop Variant so Popular?
This size is perfect because it is not super tiny like the 11-inch or 13-inch models, and it's not too big and heavy like the 15-inch variants. The 14 inch laptop size screen is perfect for watching movies as well as surfing over the internet. These laptops usually weigh around 4 pounds (1.8 kg) and can last for about 5 hours on a single battery charge.
Note : There are even lighter versions available in the market but you will need to compromise on the processing power if you want that.
How Big is a 14 inch Laptop?
A 14-inch laptop comes with a screen resolution of 1366 by 768 pixels. This is a bit lower than what you will get on a 15.6-inch laptop. But for everyday task it is fine. When we talk about laptop screen size, we're measuring it diagonally from corner to corner. You may notice that even the dimension is small but the actual screen size is bigger than some of the 15.6 inch models.
The majority of 14-inch laptops are designed to be lightweight (less than 5 pounds) and easy to carry, even when you attach extra devices like a mouse or charger. In terms of thickness, most 14-inch laptops are about an inch thick. You may need to invest more if you want a 2-in-1 model or a lighter version. If you're only looking for a basic laptop then a budget model should do the job. Most of these laptops do not come with a dedicated graphics card since they are focused to work for daily handy jobs.
Is the 14 inch laptop screen right for you?
A 14-inch laptop is the happy middle ground between portability and usability. It's the perfect size for users who want a little more screen real estate than offered by 13-inch models without sacrificing mobility. So what are the dimensions of a 14-inch laptop? The "14-inch" measurement is diagonal, from the bottom left corner to the top right corner. So on a rectangular screen, both width and length will be smaller than 14 inches.
Typical aspect ratios have equal width and height (4:3 or 3:2). Widescreen laptops are more common nowadays, with a broader width and shorter height (16:9 or 16:10). Most modern laptops have widescreen displays, so they'll be less comprehensive and less high than 14 inches. For example, our Swift 1 is 13.3 inches wide by 8.7 inches tall (335 x 221 mm).
Is 14 inch laptop good for students?
It totally depends on your use. If you intend to use the laptop for simple tasks like checking email, Facebook, and doing school work and internet browsing, it's no problem. Of course, if you are intending use it for gaming or editing work you should go for 15.6 inches.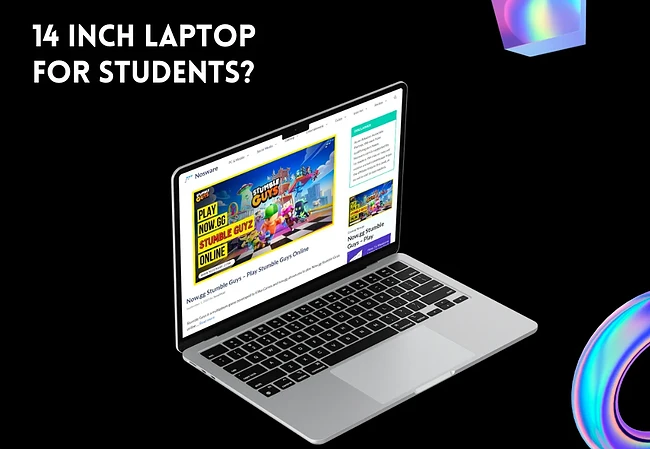 Is 14 inch laptop good for programming?
Yes, 14-inch laptops are suitable for programming. The hardware of those laptops is decent enough to run pretty much all coding languages. Definitely it is not the best but it's good. Fourteen-inch laptops are also good because they are light and portable.
What are the dimensions of a 14 inch laptop?
| | | | |
| --- | --- | --- | --- |
| | 4:3 Aspect Ratio 14 Inch Laptops | 16:9 Aspect Ratio 14 Inch Laptops | 16:10 Aspect Ratio 14 Inch Laptops |
| Width | 11.2 inches / 28.5 cm | 12.2 inches / 30.9 cm | 88.1 inches² / 568.3 cm² |
| Height | 8.4 inches / 21.3 cm | 6.9 inches / 17.4 cm | 7.4 inches / 18.9 cm |
| Area | 94.1 inches² / 606.9 cm² | 83.8 inches² / 540.3 cm² | 11.9 inches / 30.2 cm |
Video on 14 inch Laptop Size
Final Verdict
We believe that this guide on 14-inch laptop dimensions has given you the information you needed. Make sure to explore our other laptop articles for further insights.