Mechanical Engineer with strong knowledge of design tools, technologies, automobiles, Wood Working, CAD/CAM etc. Sharing insightful knowledge to help people.
Last Updated on September 12, 2023 by Noaman Adenwala
The PS5 is Sony's fifth gaming console. It was made to rival the Microsoft Xbox One and Nintendo Switch. Now, if you're wondering about linking your new PS5 to your laptop for bigger screen gaming, this might be on your mind. Curious about how to connect PS5 to a laptop with HDMI cable? In this article we aims to give you some useful tricks to start gaming on your laptop.
Can you connect your PS5 to your laptop using HDMI Cable?
In general, it's not doable to link your PS5 using an HDMI cable. The cause is that both the PS5 and laptop HDMI ports are designed for sending out signals. This setup prevents connecting your PS5 to a laptop for gaming on the laptop screen. Yet, there's a method you can use to connect your PS5 to a laptop. But let me be clear, this method isn't the best choice for regular gamers.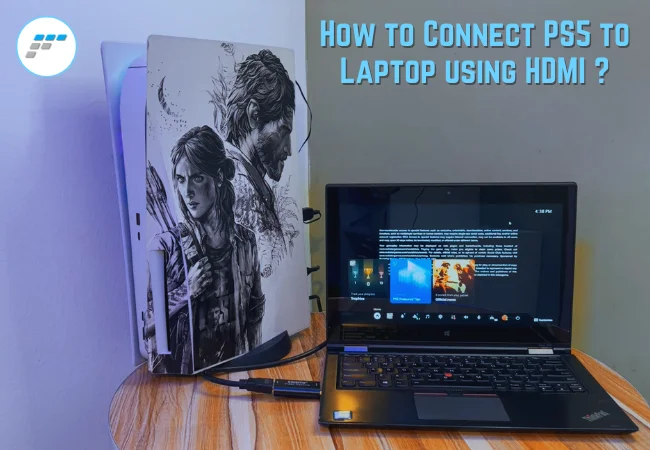 It's better to go for a proper monitor or TV to have the finest gaming experience. Still, gaming on a laptop shouldn't be too bad. It'll be okay. Since laptops lack an input HDMI port, you'll need a tool called a capture card to make this work. A solid choice for this process is the Elgato HD60 S capture card.
Step by Step Process on How to connect PS5 to a laptop with HDMI Cable
An HDMI cable acts as a connector between devices, such as linking a laptop to a monitor or even hooking up a PlayStation 5 to a laptop. Think of an HDMI cable as an upgraded version of those AV cables used to attach gaming gadgets to TV screens. These cables are handy for various tasks. It is like linking laptops to monitors or attaching gaming consoles like the PS5 and Xbox One S to laptops. Hooking up a PS5 to a laptop via an HDMI cable is pretty simple. Just follow these easy steps:
Products you would need:
Cable : Any HDMI cable should do, as long as it fits your laptop and PS5. You can read the user manual to check if you need to buy the perfect adapter that fits properly.
Gaming Console : Turn your PS5 on and ensure that it is connected to the internet so that you can download any updates necessary to use certain features.
Laptop : Check if your laptop is connected to internet. Also check if your laptop is running on the latest operating system.
Steps to Connect PS5 to Laptop:
Step 1 : Make sure your PS5 and laptop are turned on.
Step 2 : Position your PS5 and laptop close to each other and near a power outlet. Keep in mind that both devices might need to be plugged in while connecting.
Step 3 : Take the HDMI cable out of its packaging and find the "Source" input on your TV or monitor.
Step 4 : Attach one end of the HDMI cable to the "Source" input on your TV or monitor. Then, connect the other end to the HDMI OUT port on your PS5 console.
Step 5 : Use a second HDMI cable to connect. Plug one end into the HDMI IN port on your TV or monitor, and then connect the other end to an available HDMI port on your laptop.
Now, grab the opposite end of your HDMI cable and plug it into HDMI Port 3 on your PlayStation 5 console. It's important to use HDMI Port 3 because it's specifically set up for this task. Other ports won't be able to transmit videos from the console to the monitor at the high 4K resolution.
---
Step by Step Process on How to Connect PS5 to Laptop using Capture Card
Step 1: Plug in your HDMI cable – one end goes into the HDMI Out Port of your PS5, and the other end goes into the HDMI In port of your Capture Card.
Step 2: Connect a USB cable from the capture card to a USB port on your PC. After that, link any audio devices you want to use with the capture card. And don't forget to ensure your Power cable is connected to a power source.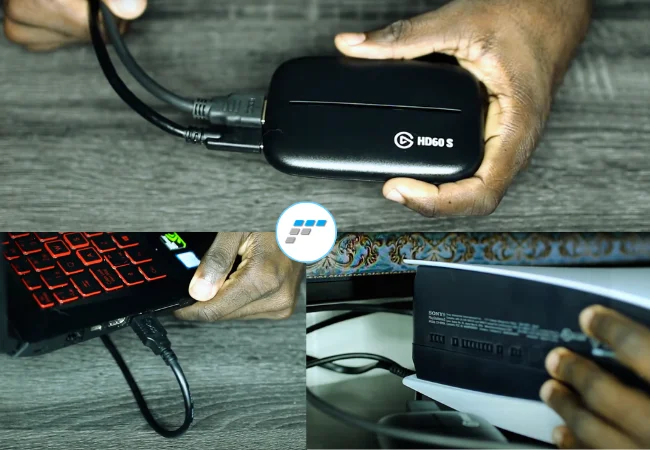 Step 3: Turn on your PS5 and access the video settings menu. Adjust your display settings to either 2160p RGB or 2160p YUV420.
Step 4: Open your Elgato Game Capture HD software and find the cogwheel icon at the upper right corner of the app window. Click on it, then head to General > Device Settings. Confirm that Device Format is set to Automatic.
Step by Step Process on How to Connect PS5 to Laptop Via Remote Play
Step 1 : To link your PS5 to a laptop, start by getting the PS5 Remote Play application for your PC or Mac. It's a free software that's compatible with Windows 8.1 and 10, as well as macOS 10.13 and later.
Step 2 : Downloading the app from Sony's website and after finishing the installation steps and then open it up.
Step 3 : Make sure your PS5 console is turned on. On your TV screen, you'll spot a six-digit number. This number is what you'll use to match up your console with your PC or Mac.
Step 4 : On your laptop or Mac, type in that six-digit code in the designated box on your screen. Once you do this, your PS5 should be successfully connected to your computer using Remote Play.
Common questions about how you can connect your PS5 to Laptop using HDMI Cable
Can I use my laptop as a monitor for PS5?
Turning your laptop into a PS5 monitor is possible. You have to connect the HDMI output from your PS5 to the HDMI input on your laptop. If you want to use a different output port on your PS5 for something else, you can make use of an HDMI switch. This device switches the signal between different output ports automatically.
How do I get HDMI input on my laptop?
You can consider using a wireless display adapter. This transforms your PC into a wireless transmitter, allowing any HDMI display to link up via Wi-Fi. Another idea is finding an adapter for your PC. This adapter changes HDMI into DVI or VGA signals, which are compatible with older display units. Also, remember to scout for online coupons or sales to save money.
How to Play Ps5 on Laptop?
1. Visit the Sony official website and grab the Remote Play application.
2. Hook up your DualShock 4 gamepad to your computer using a USB cable.
3. Open and log in on the Remote Play app using PlayStation account.
4. Click on the drop-down icon beside the power button. Choose "Register Manually," and type IP address, and hit Next.
5. Now, your PS5 console should show up in the Remote Play app on your PC or laptop. Just pick it and click to connect.
6. Your computer will now link up with your PS5 via your local network, so there's no need for an internet connection.
---
Conclusion
With this we have successfully discussed about how you can connect your PS5 to laptop using HDMI Cable. Do let us know in the comments if you face any problems.