Sana Modi is a technology expert and content writer at nosware. She has a tremendous knowledge of the latest social sites apart from social media, she also examined the latest games and laptops and has personally reviewed the products. She loves to explore all the social media sites and research them.
Last Updated on May 15, 2023 by SanaModi
Minecraft is a popular game with several users over a hundred million. Minecraft has the concept of creating some things without borders through the provided blocks. So one can make any building in 3D, either grass, building, forest, and so on. You can also play Now.gg Minecraft.
What Is A Villager?
You have to survive in Minecraft world, villagers need food, shelter, survival house, items, buildings, & tables to upgrade their tools. All of these are provided in a game by the Minecraft villagers. Villagers are passive mobs that live in generated areas called villages. These passive Mobs are your best friends. All the villagers have different jobs, and not all the villagers are made equal. Players can interact with the villagers and trade with them using emeralds.
Types of Minecraft Villagers:
Zombie Villager
The zombie villager spawns when a zombie kills a villager. Zombie villagers can also spawn with zombie villages and igloos. In which they take the place of regular villagers. And if you want to cure a zombie villagers throw a weakness splash potion on a zombified villager and then feed them with a golden apple to turn them human again.
Illagers Villager

The illagers are also known as Evil Villagers. The illager is a hostile mob. They are considered Outcasts villagers. The spawning location of these villagers is the Woodland mansion. The mansion is a vast and rare structure in the game. These mansions are the main headquarters of the illagers villager. There are four variants of illagers villager, Pillager, Vindicator, Evoker, & Illusioner.
Wandering Trader
The wandering trader is a passive mob that spawns close to the player randomly. They can also spawn near bells. As you play the game, the wandering trader and its trader will come and find you. They sell items generated in the world like plants, fish, and dyes.
How do villagers get their jobs in Minecraft?
Before knowing the villager's jobs in Minecraft, it is important to know how they are assigned these job roles to villagers. Minecraft villagers are just like humans. They wake up, & go to their job, and come back village to sleep. The developers have made the game lively and interactive. Villagers get jobs by placing job site blocks in their vicinity. The Minecraft game depends on the material to build. For the build, you need process & production. Villager jobs help players in a lot of ways in the Minecraft game.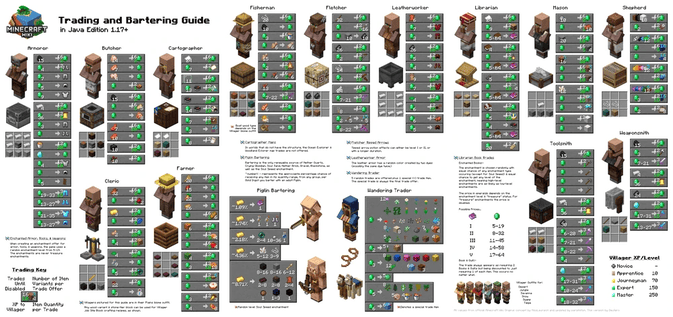 You can assign a particular profession to an unemployed villager. You can easily assign them a job by craft and place the utility block near them. Placing the utility block near villagers can be connected to the block.
How many villager jobs are there in Minecraft?
There are 15 types of villager jobs for Minecraft characters. There are many villagers there with jobs, Some villagers don't have jobs. These are unemployed or Nitwits. Nitwits can't do anything they are useless but the unemployed can be hired for a job. All villager job is an important part of the Minecraft game.
Minecraft All Villager Jobs Explained
Here we are explaining all the villager jobs that Minecraft characters do and how they can help you in the game. They have their little section for the job blocks. All the 15 villager jobs are explained with the utility job blocks and what you can trade with them.
Armorer
The armorer job site is Blast Furnace Block, which smelts ores, raw materials, and metal armor. Armorer villagers sell armor, chain, iron, & a shield. You can find an armorer in the building called Armory. Visit an armorer if you want to buy chain mail. In trading, they gave you pieces of armor. And at an expert level, they can give you diamond armor pieces. The attire of an armorer is Black Apron.
Job Site Block: Blast Furnace Block
Job Trading: Iron, Chain, & Armor.
Butcher
They trade cooked meat and rabbit stew. The Butcher job block site is Smoker Block. This block smelts food twice quickly as a furnace block but can't smelt anything other than that. The attire of Butcher is White Apron. Sometimes they offer 8 cooked chicken pieces for a single emerald. Butchers are the most reliable source of food in the game.
Job Site Block: Smoker Block
Job Trading: Cooked Meat, Stew.
Cartographer
Cartographers helps villager with maps, frames, & banners. They can be expensive villagers but they are worth it. In starting you get empty Maps. They also provide ocean and woodland maps. The blocks of the cartographer are the cartography tables. This table is used for cloning, zooming out, and locking maps. It is mainly used to create Maps in the game.
Job Site Block: Cartography Table
Job Trading: Map, Banners.
Cleric
Cleric's job block is Brewing Stand. Brewing stand is used for brewing options using bottles, & other suitable ingredients. They can provide you with magical items in the Minecraft world. Clerics trading with the most interesting items in the game like Redstone dust, Pearls, Glowstone, & Bottle o' Enchanting. The cleric attire is a purple Robe.
Job Site Block: Cartography Table
Job Trading: Map, Banners.
Farmer
Farmer attire is a Brown Robe. They can offer you advanced food items and ingredients. They are the most popular villagers in the Minecraft game. In lower levels, you can trade apples, cookies, cake, stew, pie, and bread. And the expert farmers offer golden carrots, and melon slices. The composter is the farmer job site block. This block converts some biological material into bone meal.
Job Site Block: Composter
Job Trading: Advance food items, Golden carrots, & Melon slices.
Fisherman
Visit the fisherman in the game and buy Fish, fish rods, & campfire. They also offer cooked salmon, cooked code, & bucket of cod. The job block for fishermen is Barrel and the attire of fishermen is a Brown Robe. The barrel block main is used to store items and it cannot connect with other blocks or barrels.
Job Site Block: Barrel
Job Trading: Seafood items, campfire, & fish rob.
Fletcher
Fletcher is the rarest job in the Minecraft game. Fletcher offers bows, arrows, tipped arrows, & flint. Fletcher's attire is also a Brown Robe. Their utility block is Fletching Table, This table doesn't provide you with any secondary functions. These blocks generate naturally in the village. The table is used to turn unemployed villagers into fletchers.
Job Site Block: Fletching Tabel
Job Trading: Bow, Arrow, flint, & tipped arrows.
Leatherworker
Leatherworkers offer you Leather armor, horse armor, & saddles. Leather armor & horse armor are not used most by the player. The main thing you get from a master-level leatherworker is horse saddles. The job block of leatherworkers is a Cauldron block. The cauldron block contains water, lava, or powder snow. The attire of workers White Apron.
Job Site Block: Cauldron
Job Trading: Leather armor, horse armor, & horse saddle.
Librarian
The job site block of the librarian is Lectern. The lectern is mainly used to hold written books for multiple players to read in multiplayer. If you know how to use an enchanted book in Minecraft. You will need to go to the librarian villagers. They can also trade compasses, clocks, bookshelves, name tags, & even glass blocks. The attire of the librarian is a White Robe.
Job Site Block: Lectern
Job Trading: Enchanted books, books shelves, compasses, clocks.
Mason
Mason's trading a cut version of bricks & blocks. The job of a mason is to provide you with a variety of stones. In the Java edition, this is called mason & in the Bedrock edition, it's called stonemason. The utility block of Mason is Stonecutter. The stonecutter is used for crafting stones and copper blocks in smaller quantities.
Job Site Block: Stonecutter
Job Trading: Cut versions of blocks, polished stone, and quartz.
Shepherd
The shepherd trades colored wool, paintings, banners, and carpets, all the home decor items. The job block for Shepherd is Loom. Loom is used to apply patterns to banners. If you need those decorative items, you know where you can find them. More players go to the shepherd for paintings. They also offer dyes, beds, and shears. A Brown Robe is the attire for shepherds.
Job Site Block: Loom
Job Trading: Coloured wool, paintings, banners, dyes, & beds.
ToolSmith
Toolsmiths are trading bells, tools, and minerals tools, including a pickaxe, axe, shovel, & hoe. In higher levels of trading, you can get enchanted tools. The job block for toolsmiths is a Smithing table, a smithing table used to upgrade the diamond tools to netherite in Minecraft.
Job Site Block: Smithing table
Job Trading: Tools, bells, pickaxe, & shovel.
Weaponsmith
The Weaponsmith utility job block is a Grindstone. With Grindstone, you can repair items and tools. Weaponsmith is the most desirable job in Minecraft. The items you can get from a weaponsmith are iron, diamond swords, axes, bells, & minerals. Black Apron is the attire for weaponsmiths.
Job Site Block: Grindstone
Job Trading: Iron, Diamond swords/axes, bells, & minerals.
Nitwit
They cannot gain a profession. They offer nothing & don't have any utility job blocks. Nitwits in Minecraft are so useless. They can't trade anything or even assign a job. Nitwits are the green-coated villagers.
Job Site Block: NA
Job Trading: Nothing
Unemployed
Villagers without a job are unemployed villagers. All the baby villagers grow into unemployed villagers. But these villagers get a profession by claiming unclaimed job blocks. All the baby villagers grow into unemployed villagers. For example, if there is an unclaimed cartography block, the villager can claim the table & this way, they convert it into a cartographer. They can get any job on this list.
Job Site Block: Use any unclaimed block to get a job
Job Trading: Take up any job
Here we cover everything you need to know about the Minecraft villager job. Now you are ready to start your Minecraft journey to find a village or Minecraft villager job. These are all the professions in Minecraft world, get emeralds in the game and start trading with other players. The best villager job to get an emerald is farming. Farms grow vegetables to create emeralds and get what they want in the Minecraft village.
How many villager jobs are there in Minecraft?
Currently, there are 15 villager jobs in the Minecraft game.
1. Armorer
2. Butcher
3. Cartographer
4. Cleric
5. Farmer
6. Fisherman
7. Fletcher
8. Leatherworker
9. Librarian
10. Mason
11. Shepherd
12. ToolSmith
13. Weaponsmith
Only 13 are practical professions, and the Other two are Nitwit & unemployed. To know more about the Minecraft villager jobs details, Please read the article above.
How to find a village in Minecraft?
You can use the Minecraft villager finder tool, It is an in-built tool in Minecraft that automatically locate the nearest village. Here is how to use this tool.
1. Open the command console, locate the village & press enter.
2. You can see how many blocks you are away from the nearest village. write down the coordinates
3. Press F3 to view your current coordinates
4. Head to the nearest village.
Or you can find it by exploring the game in a creative mood. In a creative mood, you can fly and easily find a village.