Sharique Tharani is a tech-savvy gadget-freak entrepreneur with 15+ years of expertise in sales, marketing, and software relations. He is currently working for 3D CAD Pytha India and regularly contributes to reviewing gadgets for nosware.com
Last Updated on October 24, 2023 by Humera hallari
The most asked question I always get is, What are the System Requirements for Adobe Audition and Audacity?
Adobe Audition is an audio editing software developed by Adobe Inc. It is one of the best software used by music, film, and podcasting industry professionals. It is a versatile software used for all audio-related tasks. It allows users to create, edit, Mix, or sound designing. It has a wide range of features making it one of the best and widely used Audio editing Software. If you want to start your career as a musician, sound engineer, and content creator then you need a perfect device to work at its best. Before buying a laptop for Adobe Audition it is highly recommended to look at the minimum system requirements to easily run this software.
In this guide, I have mentioned the Minimum system requirements for easily downloading and Running Adobe Audition.
About the Software
Adobe Audition has powerful editing capabilities So you can perform tasks like removing background noise, enhancing vocals, or even mixing multiple tracks. You can also Cut and merge audio clips, adjust levels, and apply effects. It also seamlessly integrates with other Abode Products. You can easily transfer your audio files between programs without any hassle while working with Premiere Pro or designing graphics in Photoshop.
System Requirements for Adobe Audition and Audacity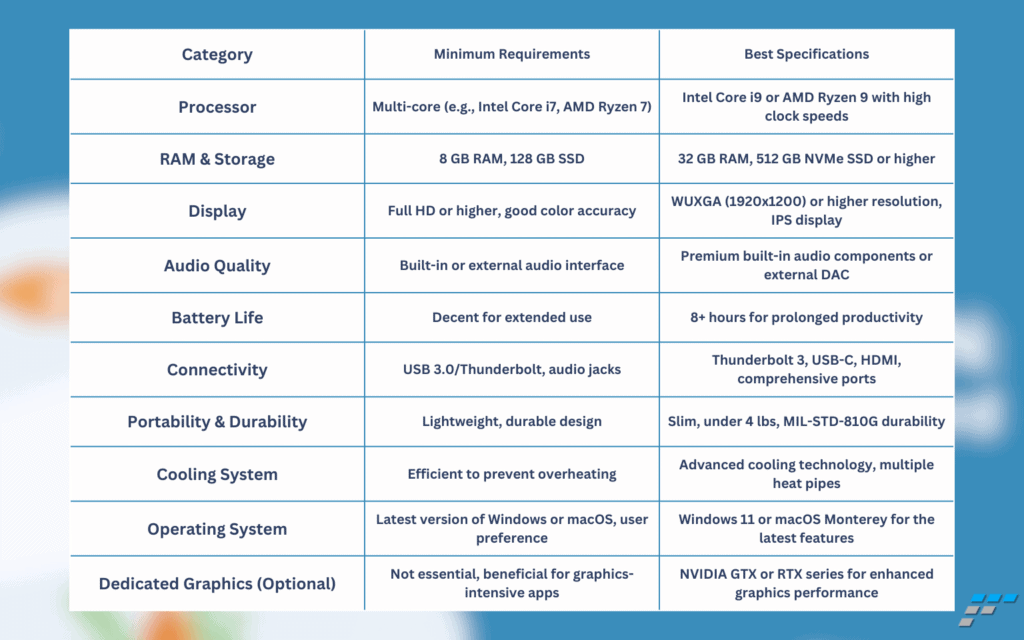 Processor
Having a strong CPU allows you to run multiple applications and software with ease. For Abode audition Having Multi-core processors such as Intel Core i7 or AMD Ryzen 7 makes work easier and better. Having more cores and higher clock speeds is preferable for smoother audio processing.
RAM and SSD
RAM and inbuilt SSD storage is another important thing that allows you to run Software without lagging and storing large audio files and all the documents for easy workflow. You need a minimum of 8 GB RAM and 128 GB SSD in your device to successfully install and run Adobe Audition and other audio editing software. Go for 16 GB or 32 GB RAM if you wish to use the same laptop longer.
Display
A laptop with high-resolution display is very important for Accurate audio and video editing. As a professional, you cannot compromise on compromise on audio or video quality because it may affect the final results. Therefore go for Full HD (1920×1080) or higher resolution display with good color accuracy and wide viewing angles. It is highly recommended to go for WUXGA display laptops to get the most out of your abode audition software.
Audio Quality
A laptop with excellent built-in audio components Not only enhances your audio editing experience but also supports high-quality audio output and input. You can also use an external audio interface to generate high-quality audio and videos.
Battery life
Look for a laptop with decent battery life to work for extended periods. Having a longer battery life allows you to work effortlessly without worrying about the power supply in all the places.
Connectivity
Ensure the laptop has an array of ports, including USB, Thunderbolt, and audio jacks, to accommodate your external devices and peripherals.
Portability and Durability
Portability and durability are other factors that allow you to work on the go. Having a durable design makes it easier for you to work in all conditions and a lightweight design helps you carry the device in all places without straining your back.
Cooling
The cooling system of the laptop is also important. It is very common to work for longer for sound engineers and if your device heats up very fast then it may affect your device's performance. Therefore I would recommend looking for a laptop with an excellent cooling system for a lag-free experience.
Operating System
Choose between Windows and macOS based on your preference and compatibility with other software you use alongside Adobe Audition.
Dedicated Graphics (Optional):
Adobe Audition is not a graphics-intensive application. However having a laptop with a dedicated GPU can help if you use other Adobe software, such as Adobe Premiere Pro, which can benefit from GPU acceleration.