Read my blogs to get updates about the latest advances in the tech world. From the latest gadgets and tools to tips and tricks for making the most out of your tech. I also review the latest tech releases, offering advice and insights on how to get the most out of your devices.
Last Updated on March 13, 2023 by SanaModi
With Google's announcement that Chrome OS is now coming to PCs and Macs, the excitement is palpable in the tech community. They call it Chrome OS Flex. This blog will tell you how to install Chrome OS Flex on your laptop or PC.
Steps to install chrome OD Flex on your laptop or PC.
Step 1: Prepare for installation
Google releases a certified models list, which they have tested Chrome OS Flex on. It is best to try it on one of these models. The minimum requirements for smooth functioning of Chrome OS flex are as follows:
Architecture: Intel or AMD 86- 64 bit compatible device.
RAM: 4 GB
Internal storage: 16 GB
Bootable from a USB drive
BIOS: full administrator access. you'll need to boot from the Chrome OS Flex USB installer and make some adjustments in the BIOS if you run into issues.
Processor and Graphics: Components made before 2010 might result in a poor experience.
Note
Intel GMA 500, 600, 3600, and 3650 graphics hardware do not meet Chrome OS Flex performance standards.
You would also need a USB drive to create the installer. Choose a USB drive that is
8GB or more in size. Do note that all contents of the drive will be erased.
Step 2: Build the USB installer
Open the Chrome browser and ensure you have the latest version. To create a USB the installer, go to the Chrome web store and add the Chromebook Recovery Utility
extension to the browser.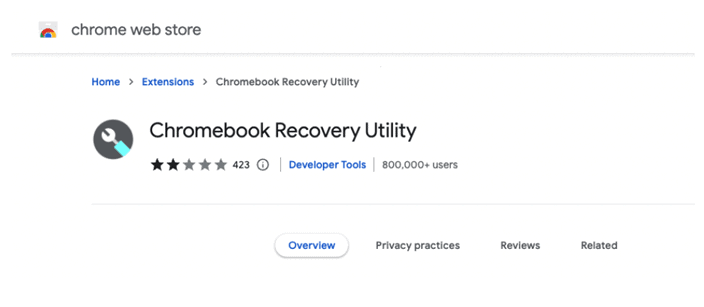 Launch the Chromebook Recovery Utility extension and do the following:
Click on Get started > "Select a model from the list".
Choose "Google Chrome OS Flex" in the Select a manufacturer dropdown.
Choose "Chrome OS Flex" in the Select a product dropdown.
Click Continue.
Once prompted, insert your USB drive and select it in the dropdown.
Click Continue and Create now.
Once the device is ready, you'll receive a message. Remove the USB drive
safely.
Your USB installer is now ready.
Step 3: Boot the device via the USB installer
Plug the USB installer into the device you want to install Chrome OS flex on.
Switch off the device. Power on the device and press the boot key of your device to go to the Boot menu. (Every machine has a boot key. You can read more about Boot keys for your device here.)
Choose the USB drive as the boot option. This will make your machine boot from the USB installer.
Step 4: Explore Chrome OS Flex and install
On booting from the USB drive, you will see an installation welcome screen as below.
You will notice the name on the installation screen is "CloudReady 2.0". This is just
another name for Chrome OS Flex.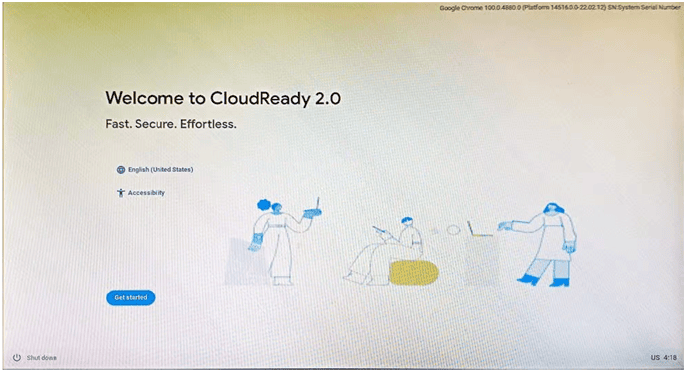 On clicking Get Started, you will get an option to either directly install Chrome OS Flex on the hard drive or try it from the USB drive itself.
We suggest you try it before installing it on your hard drive. This will help you verify if important functionalities like networking and input tool are working properly.
Once you have tried the OS, sign out, and you'll see an option to Install.
Note
Installing Chrome OS Flex will erase all the existing data from your hard drive. Please make sure you have a backup of all the important files before proceeding.
Proceed with the installation by following the instructions on the screen. On the last few screens, you will have to set up an account for use and accept the terms for data sharing.
And that's it! Chrome OS Flex is now installed for use. You can read more about the installation from Google's official guide.
Chrome OS Flex apps
Chrome OS Flex has a bunch of native apps to get you started. Some of them are the following:
Camera
Files
Web Store
Calculator
Google Calendar
Google Meet
Google Keep
Google Maps
Chrome Browser
Gmail
Google Chat
YouTube
YouTube Music
Play Books
Play Movies
Docs
Slides
Sheets
Drive
The resource requirements of the OS are low since it relies extensively on web services for its functioning. This makes Chrome OS Flex a great way to utilize your old machines that are gathering dust.
How is Chrome OS Flex different than Chrome OS?
Well both Chrome OS Flex and Chrome OS share the same base technology and tools yet both are very different when it comes to security, app support, device support, performance, and battery life.
Do check our more articles below for downloading and installing chrome os.

Have you tried the OS? Let us know how you find it.
Read more articles on Download and Install PlayBox HD for iOs iPhone and iPad & Install Chrome OS in Virtualized Environment.
FAQs
Can I install Chrome OS Flex on any machine?
Google has released a set of certified models where they claim Chrome OS Flex will work smoothly. You may face issues if your machine is outside of this list. You can see the certified models list here.
Is Chrome OS Flex for Enterprise users?
Yes. Google offers Chrome OS Flex for Education and Enterprise users for free. Chrome OS Flex is a cloud-first OS. You can access that version by filling out the form here.
How is Chrome OS Flex different from Chrome OS?
They are different. Some of the most notable differences are that Flex does not have native support for Android apps. Even Linux apps lack complete support in Flex. Chrome OS Flex is basically made for older machines that have been lying unused. Flex makes them usable with its cloud-first approach.
Google talks more about the differences here.